Volvo Cars Brand tour (English)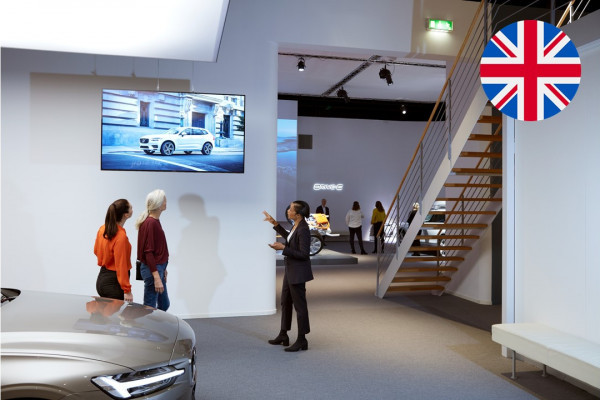 The Brand Experience Centre is used to educate people about Volvo as a brand. We talk about everything regarding our company purpose:The freedom to move in a personal, sustainable and safe way.
Concept cars
Safety
Sustainability
History
Included

The Brand Experince visit includes a 90 minutes guieded tour. In english or swedish. Time for quetions and reflections along the guided tour, as well afterwards if needed. Transport (bus) back and forth from Volvo Cars Sörred.

Not included

There is no resturant or coffee shop in the building.

Duration
2 Hours
Bring along

Digital booking reservation and if you are booked as a Volvo Cars Employee, don't forget your Volvo Cars ID card.

Participants
The tour takes place from 6 to 25 participants.
Important information

There is a strict time schedule and you must be on time.
Your are not allowed to write the same name in all tickets. All tickets must be individual.
If you book a ticket as an Volvo Cars employees, the ticket is individual and needs to be shown with your valid Volvo Cars ID to be free of charge.
Transport (bus) arranged by yourself must be notified in advance to the booking team (visitor@volvocars.com) Registration number of the bus and a list of all participants will be required.
Uninformed "no shows" will be charged. Except unexpected illnesses and simular. 

 
Further information
At the Brand Experience centre, you will get a better understanding about Volvo Cars as a brand – not a lot about cars. But Volvo as a brand and what we stand for.
Our company purpose indicates what's most important to us. We acknowledge that owning/having a car is personal. Not everyone wants the exact type of ownership of a car nowadays. We also acknowledge that we as an automotive manufacturer is part of the global issue regarding the climate change – therefore we also need to be part of the solution. Everything from electrifying our car fleet, to how we produce the cars to our overall vision when it comes to the climate.
And lastly, safety. That's why Volvo Cars was created in the late 1920's. Our founders wanted people to be able to travel in a more safe way than what was available at that time. And we are continuously working on safety innovation to protect people in traffic. No matter if you're in a Volvo or not.
More offers from this partner