Volvo Cars Factory tour (English)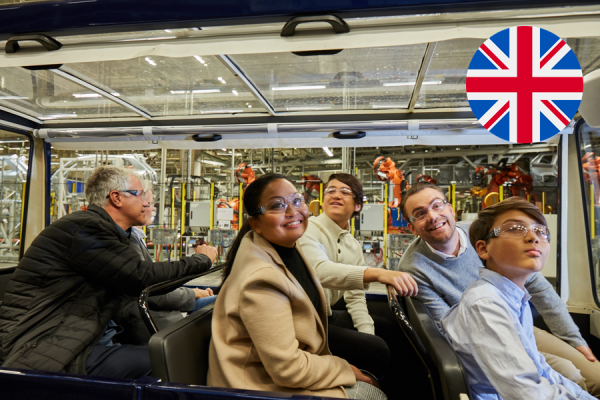 Please note! 
We can never guarantee that a booked factory tour can take place.The tours are running as long as the factory's operations allow us to enter with our train/trains.
Experience the heart of Volvo Cars
Increased knowledge about the brand
Witness the amazing cooperation between robots and humans
Included

Transfer by bus back and forth to Volvo Cars Sörred (the tour depart from another location) Please note that the location/buildning is not reachable for the public. 
It is important that you inform us if you are a larger group and arrive in your own bus.
Safetly glasses to borrow for the tour.

Not included

There is no resturant or coffee shop in the building. 

Duration
2 Hours
Bring along

Digital booking reservation
If you are booked as a Volvo Cars Employee, don't forget your Volvo Cars ID card!

Participants
Maximum 28 participants per train.
Important information

If you work at Volvo Cars and have an active Volvo Cars ID card (including consultants), please book your ticket in the category "works at Volvo Cars".
Please observe that we´ve moved. Check in is at Huggåsvägen 5, 405 31 Göteborg. Same buildning as Volvo Car Sörred.
Our online payment is closed. Choose "Cash Payment" when booking a ticket. The payment will then be processed upon check-in at the reception desk. No cash, only card.
We recommend you arrive a few minutes prior schedule time for us to greet you welcome!
The factory tour takes place if the production allows. If a trip must be cancelled, you will be offered an alternative date by emailing us at visitor@volvocars.com.
Photography and filming are prohibited during the tour. Cameras, telephones, and similar technologies will be collected and stored before the tour starts.
If you book a ticket as a Volvo Cars employee, the ticket is individual and needs to be shown with your valid Volvo Cars ID to be free of charge. In case of cancellation, you need to cancel or inform us in advance.
Further information
Welcome to the heart of Volvo Cars, our factory. At the start of the tour, your guide will talk you through the process, reveal some fun fact and inform you of the most neccessary information. 
Then it's time to hop on our Blue Train - which will take you into our factory to explore our production!
Our production plant is a busy place! Therefore, tour routes might vary depending on maintenance or development work. But don't you worry, we will make sure you will get a good behind-the-scenes view and lots of impressions for your memory bank.
More offers from this partner