Volvo Cars Factory Tour (Eng) - TEMPORARILY CLOSED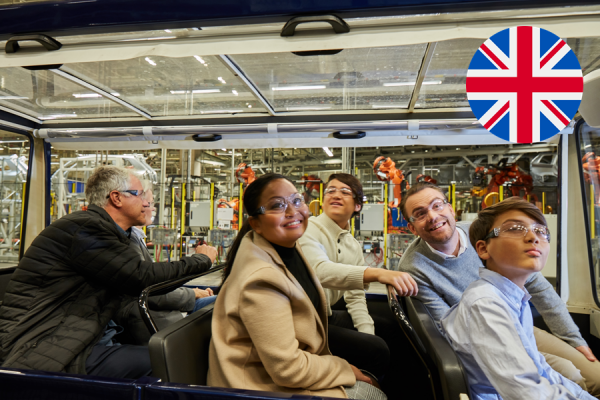 Due to Covid-19, the factory will be temporarily closed.
Explore the Volvo Cars factory in Torslanda, Gothenburg. Our factory tour train will take you on a guided behind-the-scenes of our production line. You'll get a glimpse of our production process starting from rolls of metal sheets to finished cars. An ideal family or group activity!
Note: Protective mask is mandatory during the entire train journey
Explore one of Europe's most modern car plants
Get to see where some of the world's safest cars are being built
Observe robots and humans working hand-in-hand
Duration
90 Minutes
Important information

*Please observe that the online payment is closed. Choose "Cash Payment" when booking a ticket. The payment will then be processed upon check in at the reception desk. No cash, only card.

*Protective mask is mandatory during the entire train journey. If possible, bring your own mask.

*We recommend you to arrive a few minutes prior schedule time for us to greet you welcome and offer you a cup of coffee or tea. There is also a restaurant that serves breakfast, lunch and FIKA. Food and drinks are prohibited on board the train.

* If you are a larger group and want to have breakfast, lunch or FIKA in VCI restaurant, please book a table via Diana.Johansson@compass-group.se

*The factory tour takes place if the production allows. If a trip has to be cancelled, you will be offered a ticket for an alternative date or refund.

*Photography and filming are prohibited during the tour. Cameras, telephones and similar technologies will be collected and stored at the reception before the train ride./

*If you book a ticket as an Volvo Cars employees, the ticket is individual and needs to be shown with your valid Volvo Cars ID to be free of charge. In case of cancellation, we wish you to cancel or inform us in advance.

*If you experience any cold symptoms (fever, cough, respiratory problems, etc.) Please follow The Swedish Public Health Agency's recommendations and stay at home.
Further information
Welcome to the heart of Volvo Cars, our factory. At the start of the tour, your guide will talk you through the process and some fun facts in the reception area.
Then it's time to hop on our Blue Train, which will take you into our factory to explore our production process.
Our production plant is a busy place! Therefore, tour routes might vary depending on maintenance or development work. But don't you worry, we will make sure you will get a good behind-the-scenes view and lots of impressions for your memory bank.
Enjoy an exciting 90 minutes and observe robots and humans working hand-in-hand to build some of the safest cars in the world.
For guided tour in Swedish - click here.
More offers from this partner